All our Banham locks supplied and installed. Same-day emergency banham door repair & emergency banham door and banham lock replacement by our expert locksmiths
We replace or repair damaged banham locks and banham doors.
A damaged or broken Banham door poses a significant security risk to your belongings and property. If you have suffered a burglary or vandalism at your home or business, you can count on the team from ASL Locks for a prompt response and professional door replacement services. Our master locksmiths operate across London. We specialize in burglary repairs, steel security doors, door replacement, registered keys and general locksmith services. Contact ASL Locks make sure your home or business stays completely secure. Damaged banham locks and  Banham doors London are a major security risk. Call now for an immediate response.
Regain your sense of security after a burglary
If you need a burglary repair today in the Greater London area, we are able to provide one of our master carpenters to carry out a same day emergency door replacement, frame replacement or any emergency door repairs required. We can be with you in 15 minutes.
Call us out now!
Any burglary damage is normally covered by your building insurance.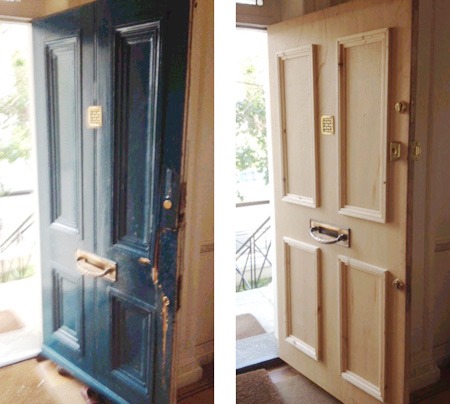 Above, on the left, is the original door after a burglary. Note how the wooden door has been smashed around the lock.
On the right is the replacement hardwood door which ASL installed, showing how we built a door which closely resembled the original door, but was far stronger, laminated with a solid core hardwood centre that adds to the overall mass of the door, and also offering fire resistance to 30 minutes.
We can match the look of your original door by installing beading to give the impression of panels, while retaining the strength of an integral solid-core hardwood door (with a steel plate if desired; see below for our premium range), rather than the structural compromise of building a weaker door with thinner inset panels. We can customise the design and include customised door furniture, plus we offer the security of three locks.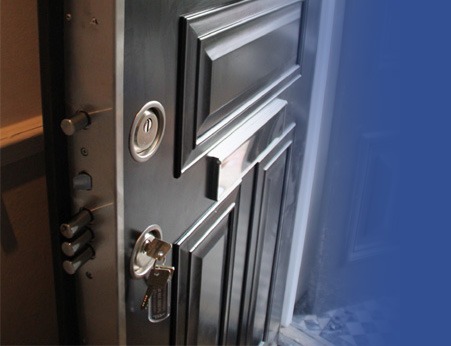 STRONG IDENTICAL REPLACEMENT DOORS
Re-securing your property after a break-in is a high priority, not just to keep the rest of your home or business safe, but also for your peace of mind. ASL Locks provide a same-day door replacement service that's quick, simple and, most of all, reliable. Our strong and robust doors will protect the contents of your property, allowing you to sleep easy.
FINDING THE RIGHT DOOR FOR YOUR HOME
At ASL Locks, we can supply a variety of premium doors to strengthen the security of your home:
Solid hardwood doors

Adheres to the British Standard half-hour fire check
The most popular product in our collection
Able to replicate original design, even adding a paneled effect
Solid hardwood doors

Contains 3 locks for extra support against break-ins
Secure against forced entry and adheres to the British Standard half-hour fire check
Titan doors

The strongest product we offer; Titan doors are manufactured from steel and contain 22 solid steel bolts that engage into the solid steel frame
Over 100 models to choose from, available in any size or colour
Adheres to all safety & fire regulations and will not warp or rot

Is your door old or damaged? Call ASL Locks for a highly efficient same-day door replacement service.
CALL US IMMEDIATLY ON 020 3070 3998