The very latest digital locks from our experts
If you have a building that requires top of the line security but also must be accessed by many people, then having digital locks installed is a cost-effective and secure option. Push button digital locks provide exemplary security while allowing a range of users easy access to a building. ASL Locks in Hampstead carries a large range of the very latest digital locks. Our locks can have up to 10,000 password variations, are spy proof and tamper proof and can be used internally or externally. Digital locks are perfect for businesses, schools, hospitals or government buildings. The ASL Locks team of experienced locksmiths work throughout the Hampstead and greater London area supplying and installing the very latest push button digital locks.
Digital locks for public buildings, commercial and industrial buildings, airports, schools, universities and much more.
Professional installation services for push button digital locks
ASL Locks in Hampstead specialise in push button digital locks and other electronic locks. Our range includes the push button, push button 500, i-tronic and the Intelock – they don't need keys or cards, have no wiring and will fit any installation or purpose. All our digital locks cannot be picked and are not affected by power failures or susceptible to extreme weather – all you need to do is set your code.
Our range of digital locks and options to help you stay secure
Our range of digital locks provide access control for a range of places. Choose from:
Push button

8,000 combinations
Fully mechanical
Internal or external use

Push button 500 series

2047 codes to choose from
Panic/safety function
Suitable for busy doors
I-tronic

Heavy duty mortice lock
Weatherproof external lock case
15 access codes

Intelock

10,000 possible combinations
Enter your code discreetly
Virtual spy proof display
Electronic door intercom lock

The best electronic door intercom lock on the market
If you haven't got this lock on your main entrance communal door you should seriously think of changing your lock. the lock can work on your original key or we can supply a registered restricted cylinder with it.
Intercom entry systems

We supply and fit all types of intercom system, including video entry systems.
We also service and repair intercom systems.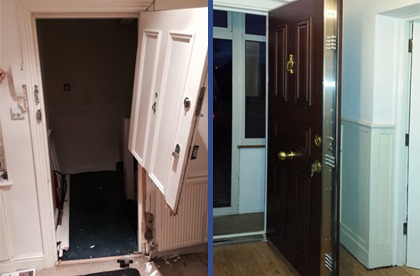 Which door would you prefer to have to keep a burglar out?
For ultimate security get a Titan steel door.

Just like our digital locks, our installation reduces hassle and saves you money and time.
CALL US IMMEDIATLY ON 020 3070 3998 OR